Stéphane - Jacques Addade
Historien d'Art - Expert - Membre de la Chambre Européenne des Experts d'Art
Par Stéphane-Jacques Addade
In the Oeil from February 2000 I published the following article. This article was signed with my name, and illustrated with some beautiful photographs by Jean-Pierre Godeaut showing the artist's house and some period documents presenting his decorations. Artclair.com, which owns the Oeil, thinking they had authorisation – certainly mistakenly – published my article online without crediting it, as well as cutting out its illustrations. As such, the reader will be able to find below the documents which were copied, enhanced by some fresh images.
Some are familiar with Bernard Boutet de Monvel (1881-1949) through his society portraits because a few recent exhibitions have endeavoured to boost recognition of this facet of his work. However, who remembers that, among his other talents as an etcher, an illustrator or even a sculptor, Bernard Boutet de Monvel was also a decorator?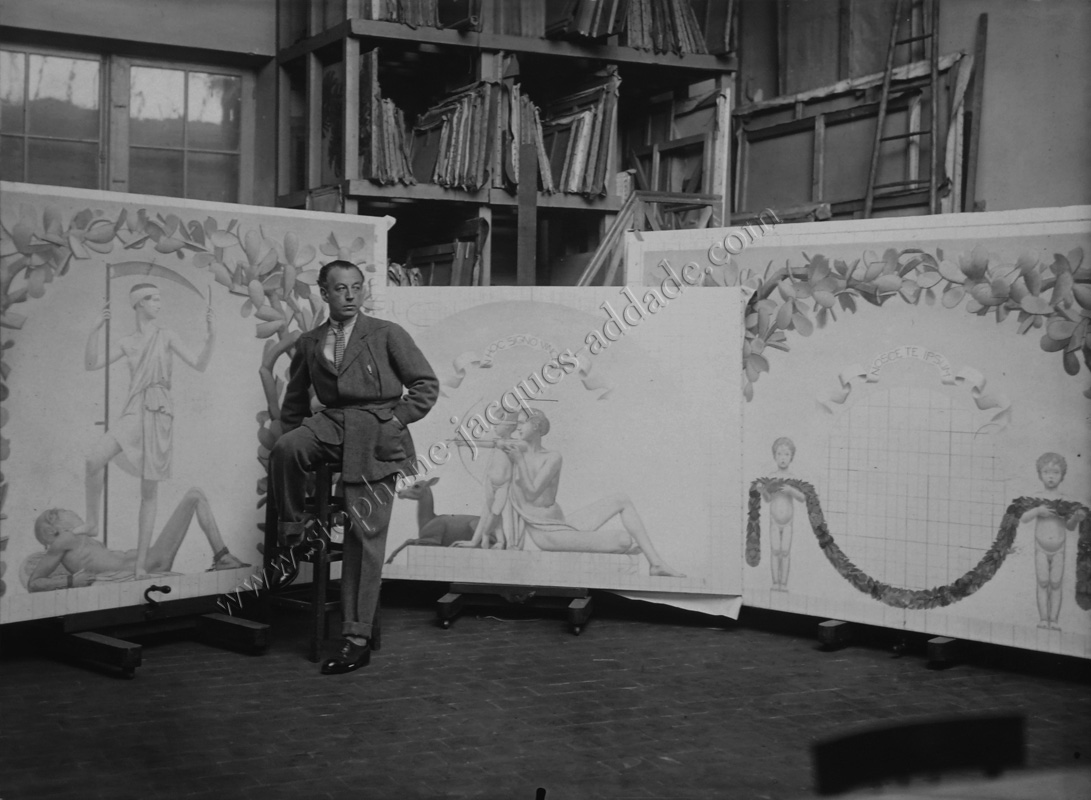 The son of a painter and illustrator of children's books, Bernard Boutet de Monvel had a family structure which could only predispose him to painting. At a very early age, he assisted in the production of the first of six panels recalling Joan of Arc, which his father was commissioned to do to decorate the new Domrémy Basilica. During his first trip to Florence in 1904, he learnt the Italian basics. In this way, on his return, Bernard Boutet de Monvel had naturally acquired the certainty that the caesura between fine arts and decorative arts was nothing more than a trick, a legacy of the Renaissance, which you had to go beyond to rediscover an original pureness in your manner. In 1905, he exhibited a panel at the Salon d'Automne (Autumn Exhibition), which had nothing notably different about it compared with his other paintings, other than the clear caption "panneau decorative" (decorative panel) listed in the catalogue. The step had been taken. Other paintings were to follow, whose layout was governed by the play of primary geometric figures, their format stretched onto a frieze and their increasingly notable lack of perspective and contours, which were invariably on the border between painting a picture and decoration. Whilst he was now famous for his portraits, he was firmly committed to the process of stripped-down design, to clean stylisation and highlighting the line rather than the plane, the impending war and the ups and downs of his upside down life were suddenly going to lead him towards a taste for balance and strict compositions, which ultimately he had always been destined for. A highly skilled bomber observer in the Oriental Army, he landed in Salonica in November 1915, where he formed an unwavering friendship with the architect Louis Süe. He then settled in Morocco, where the beauty of cacti and palm trees was revealed to him and went on to become his favourite decorative motifs in both plaster low reliefs and canvas forms.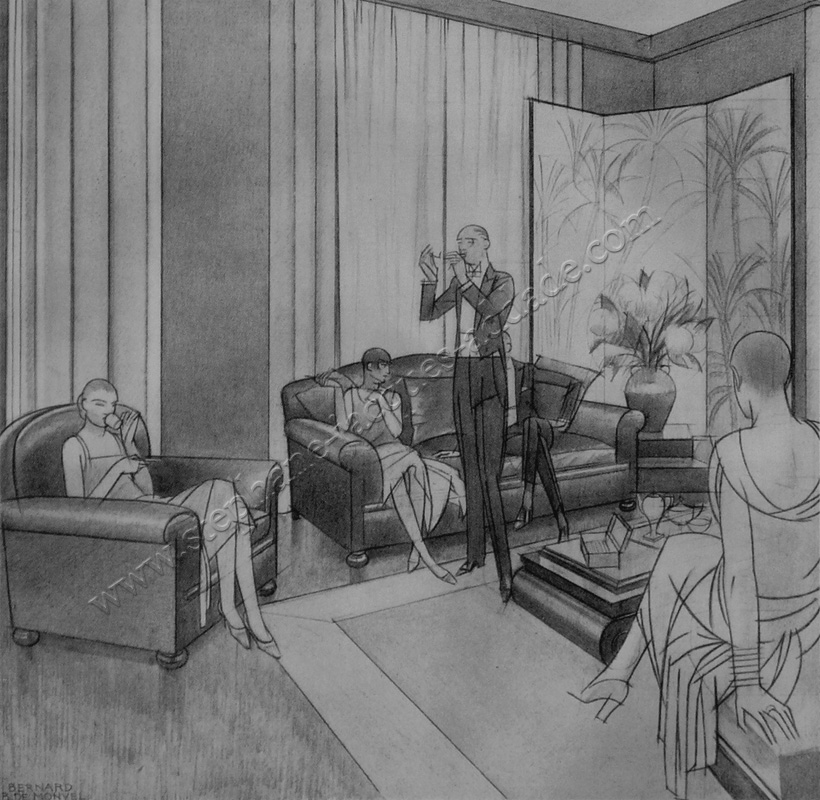 At the end of 1919, only just demobilised, Bernard Boutet de Monvel received an offer from Louis Süe who, along with decorator André Mare, wanted to coordinate the search for a small group of friends, selected for their professional know-how and their ability to work in a spirit blending innovation and tradition, to be a member of the burgeoning La Compagnie des Arts Français (French Arts Company). Proportions, reason and discipline had to be the keywords of this company which was to set up a modern style, the Art Deco style of reconstruction which the 1925 Exposition (exhibition) would be dedicated to. In 1921, for May de Faucigny-Lucinge's bathroom, he created a stuccoed panel, simply painted with a black outline, depicting a palm tree motif, which had barely been simplified from a table which he painted in Marrakech. And it's this same motif which he adopted again, but with all its original complexity this time, for a folding screen in silver leaf, commissioned in 1923 by his friend and couturier Jean Patou, for the lounge of his rather unique hotel, for which the Compagnie was ensuring the fit-out.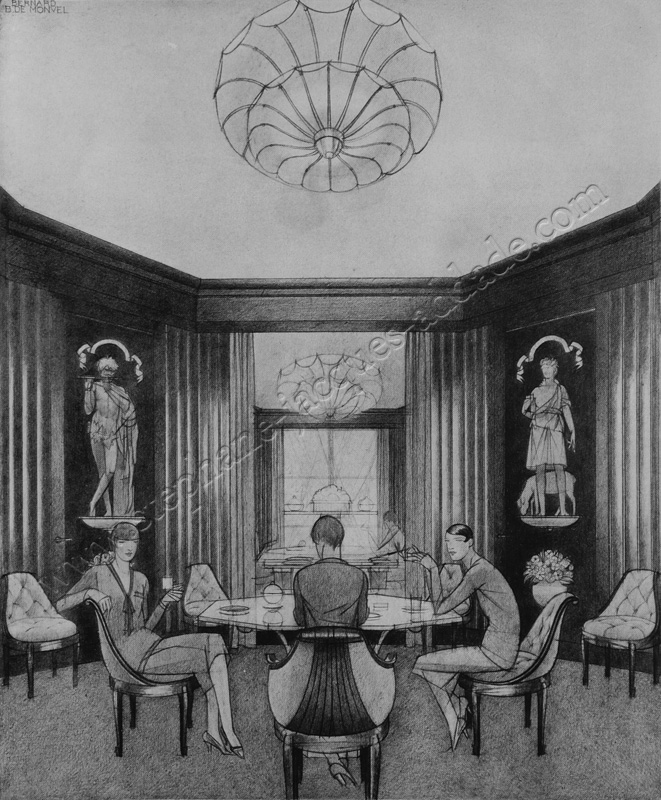 The villa which Jane Renouart asked Louis Süe to build for her on the heights of Saint Cloud, gave Boutet de Monvel the opportunity to fully express his talent the following year. In a spirit evoking the famous panels delivered in the XVIIIth century by Prud'hon for the Lannoy hotel, he came up with the idea of painting four allegorical figures on the doors of the octagonal dining room panelled in mahogany, which symbolised poetry in its pastoral, heroic, satirical and lyrical forms. Dressed in ancient costume which was popular during Louis XIV's time, each of them, stylised to the point that the shading amounted solely to a set of hatchings, were outlined against the moiré background of panelling, amidst the warm harmonies of brick and crimson. For the bedroom of the famous director of the Daunou Theatre, the vault and the tympanum of the alcove dedicated to the Triomphe de l'amour, showed three couples in a frieze, whose entwined bodies were all tied up with the logic of mathematical reasoning beneath a luminous sky from whence Cupid radiated out. The concept of the large panels that Boutet de Monvel painted in 1925 for Mrs Jacques Edeline's dining room in Biarritz, was very different. These panels were occupied by figures, who could have been born from a sculptor's chisel. Their smooth, monumental bodies appeared fixed because, in these compositions, the arabesque was banished from studied intertwining and was vigorously brushed with cactus branches and a grey sky backdrop.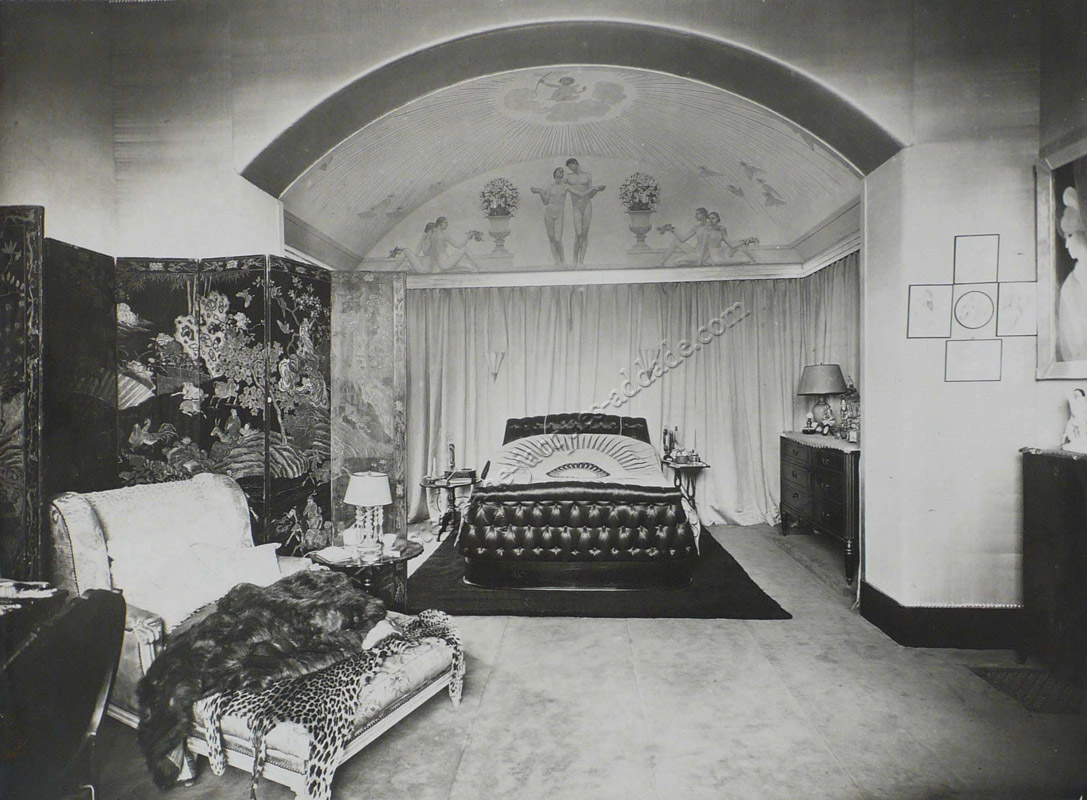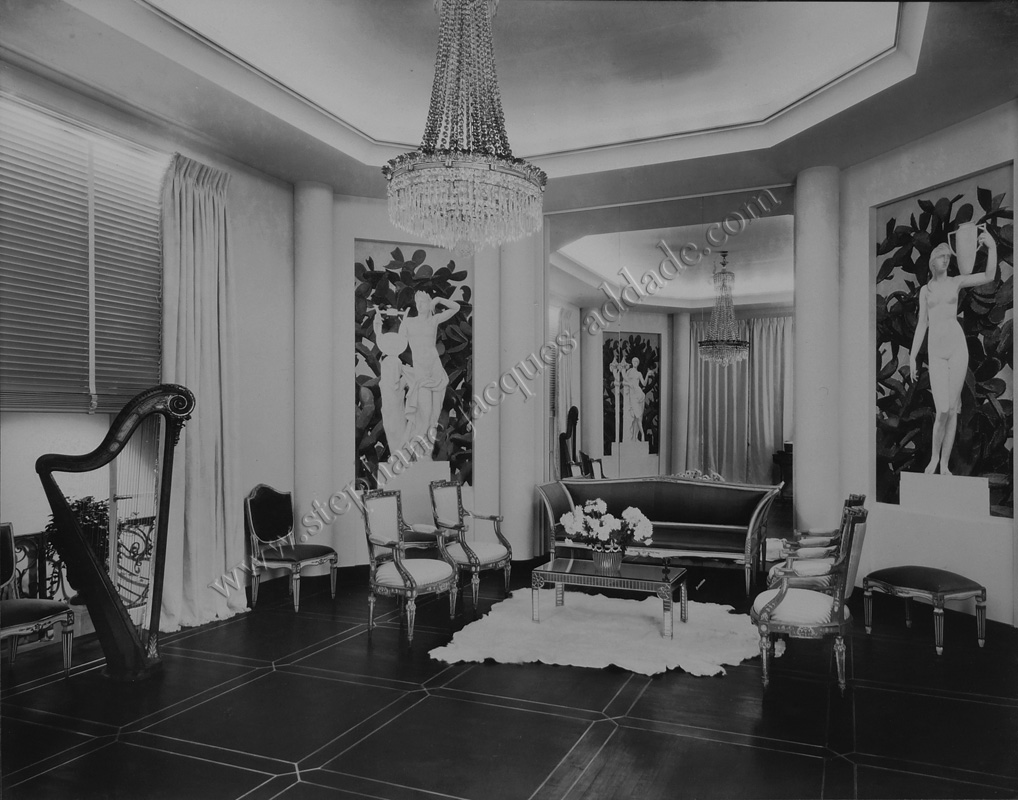 Having found in the concept of ornaments a material to satisfy "this meticulous taste he brought to his arrangement of all things", Bernard Boutet de Monvel finally decided to visit New York in 1926, for a marathon exhibition through which he had every intention of showing the Americans the true extent of his talent. However, though none of them could refrain from having his or her portrait done by the painter, a lot only displayed relative enthusiasm when confronted with the replicas of panels and the models exhibited.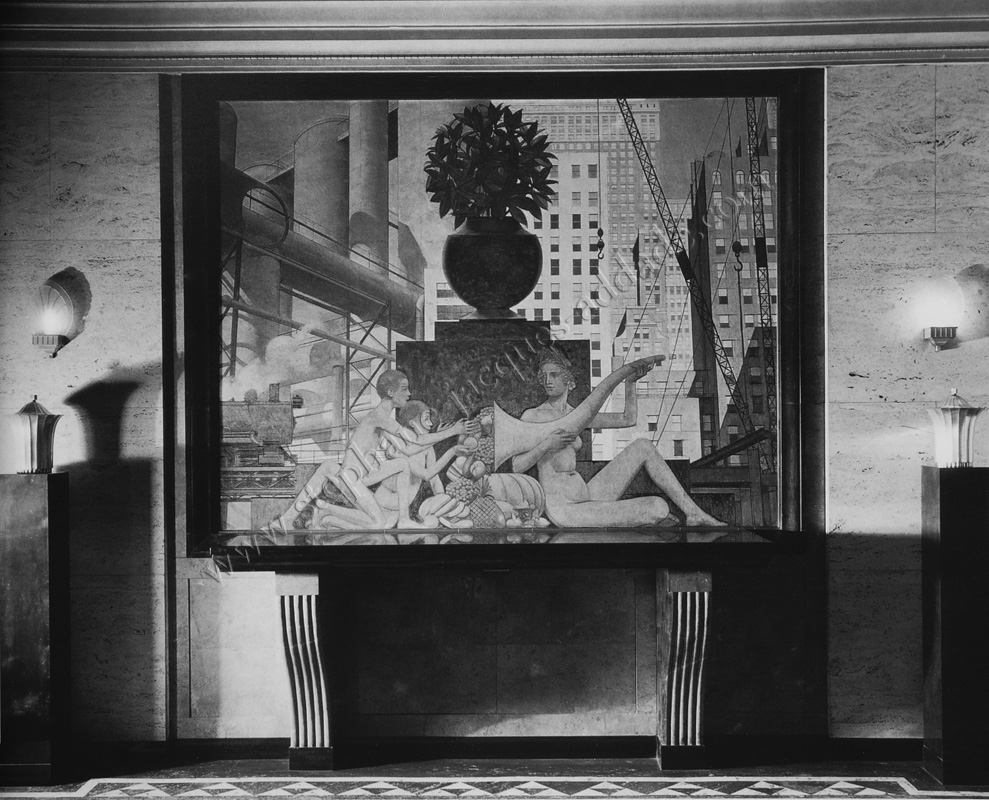 In early 1928, he nevertheless received the commission for the hall in Chicago's State Bank, which comprised a vast panel representing Progress and abundance. In front of a steelworks and a New York landscape of buildings perpetually under construction, abundance nourishes the children of America. The subject of such an allegory gave Bernard Boutet de Monvel complete freedom to introduce into his composition the elements of an industrial and urban modernity, whose abstract beauty had never ceased to fascinate him since his arrival in the land of the dollar. So he set to work on this vast decoration, by painting his initial studies of the Manhattan factories and streets where, unwittingly, his perception as much as the transcription made his work very similar to that of the Precisionist painter Charles Sheeler. Much more classic was the elegant decoration, full of humour and tinted with benevolent impertinence, which Bernard Boutet de Monvel completed at the end of that same year for the bathroom of Mrs Charles S. Payson's new villa. Beneath the archway of prickly pears structured into a regular grid pattern, the Beauty, victorious from a shackled Time and recumbent on her folded wings, a crowd at the foot of the latter, whilst holding the confiscated scythe in the one hand and in the other her mirror. In 1929, L'Amour (Love) still had a central place in the two representations of tennis past and present, which were commissioned by Mrs James Brady for her court in New Jersey. He is preparing to hit a heart with a racket for 1900, while a young sportsman is beseeching, for 1930, with a backdrop of palm trees, drawn with a ruler and a pair of compasses. Finally Diane's life ought to have been the subject of four large panels refused by Mrs Harrison Williams for her villa in Bayville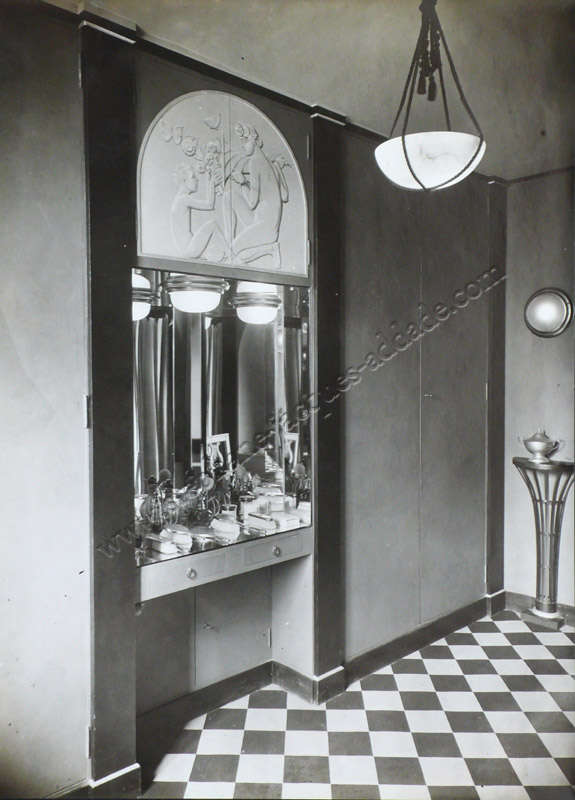 The new family obligations his recent marriage and the birth of his daughter imposed on him, led Bernard Boutet de Monvel to purchase, in 1924, a small apartment building in the suburb of Saint Germain (1) at the top of which was his studio. Giving his friend Louis Süe the responsibility of enlarging it so as to transform it into a comfortable neo-Directoire town house, the artist found in this luxury residence enough material to fully satisfy his taste for symmetry in the balancing of the masses, for understated harmonies and for pure lines (fig 8). "We should never forget that painting is part of the decoration" wrote Jacques Boulenger in an article devoted to Bernard Boutet de Monvel's decorative panels, before adding "that he'd like to arrange everything around him as he does with his painting and he'd like to take this further and say: that he is not at all indifferent... to the setting, that he would like to determine the nuance or even the form of the panels where his canvas is to be hung, to arrange the room where it will be positioned himself, and if need be build the whole house around it!" This is exactly what he did, by covering the walls with blank canvasses, designing certain furniture, like this spectacular octagonal table with glass panels for the dining room, or again by creating certain decor: cupboard doors embellished with essential feminine accessories and surmounted by maxims such as 'always full of spirit' for his wife's dressing room, or symptomatic allegories combining the palette, the ruler and the pair of compasses on the one hand, exotic fruits, a guitar and a terrestrial globe on the other, for the library.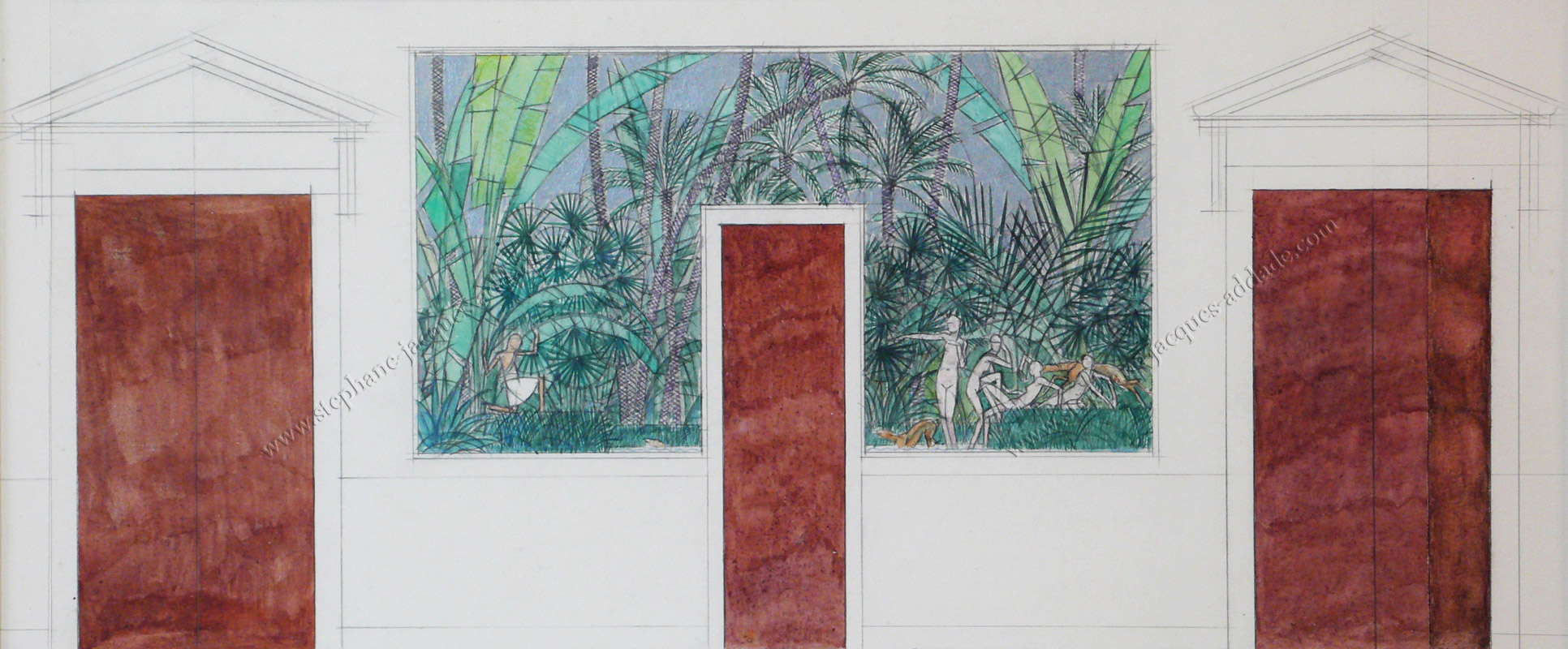 With the layout of his Parisian residence barely complete, it's near Nemours, in late 1929, that the painter decides to purchase a neglected mill, whose meticulous renovation work he managed. He then went on to have a small wooden folly built for him at Palm Beach, in early 1936, in an octagonal design inspired by that of two villa houses designed by Louis Süe for the 1925 Exposition (Exhibition). Having requested the architect Maurice Fatio only to use geometrically pure shapes, four quadrilaterals were added on to this centre space so as to accommodate the private flats and put in terraces. However, the painter made so little use of his Folie Monvel that the decorative paintings above the doors which he'd painted for the house, never truly found their calling. The war, which he wanted to see out in France, was the cause of his absence. With peace restored, his activities now kept him a long way from Palm Beach, forcing him to cut his ties with the wooden house. It was early 1949, just months before he perished in a plane crash in the Azores. At that time he'd just begun to work on decorating the small church in Treuzy, near Nemours; an act of faith which his premature disappearance meant he didn't have time to complete...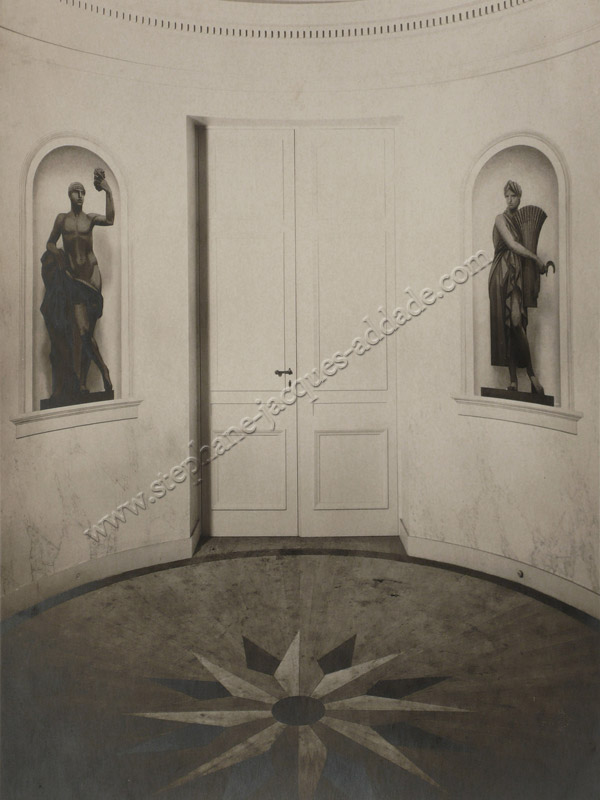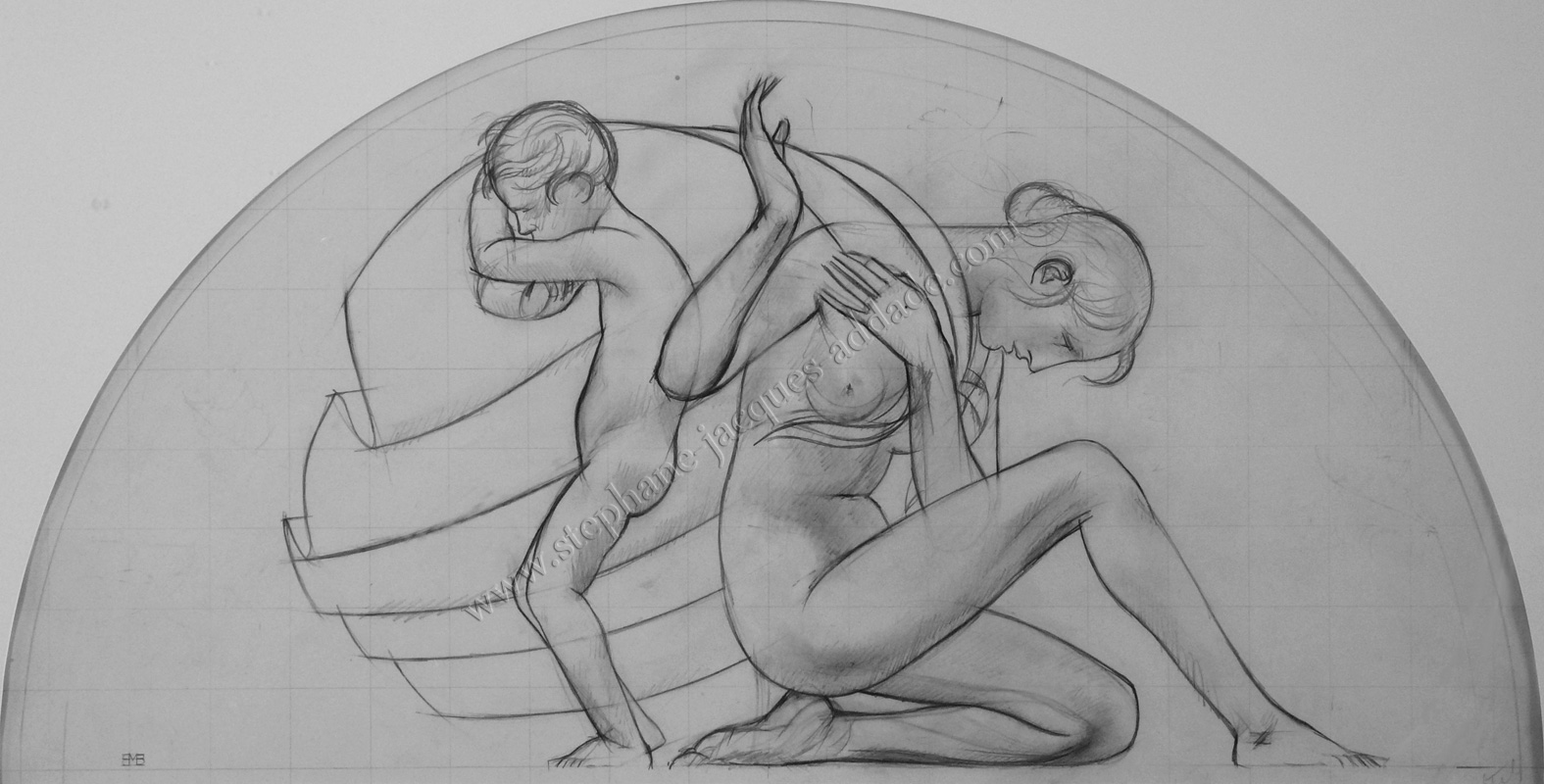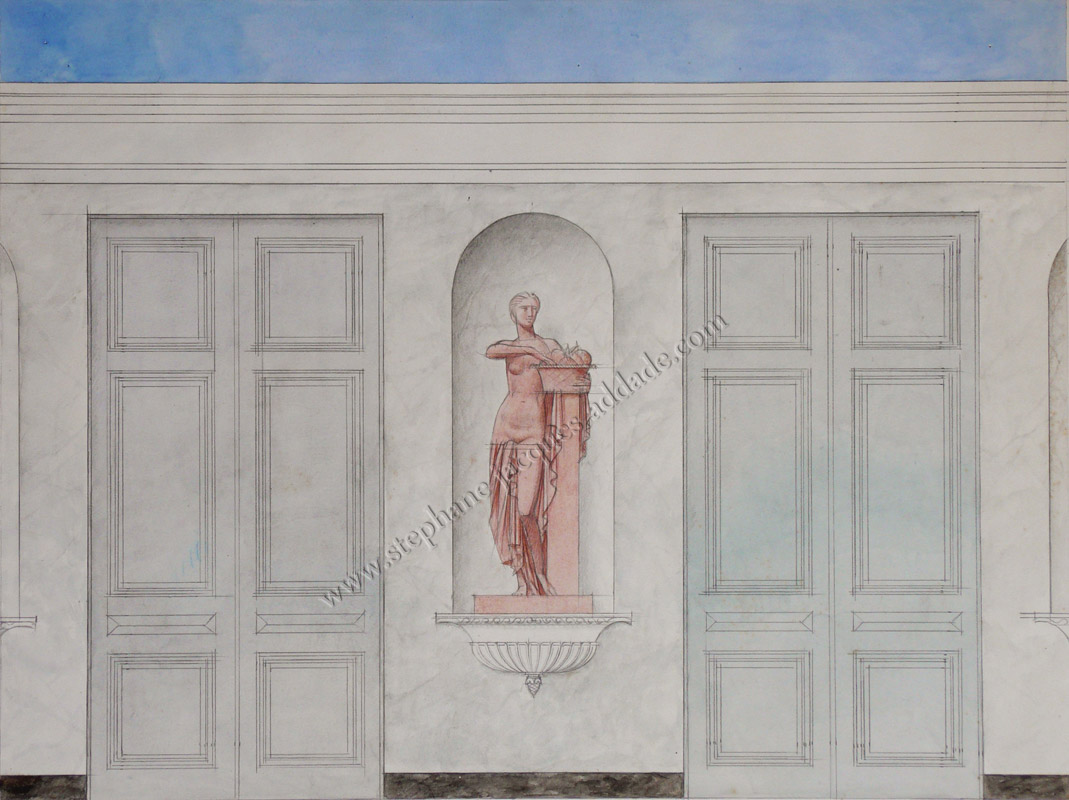 The article appeared in L'Oeil – No.513 - February 2000 pages 52 to 57
(1)The reader would do well to refer to the article that appears on this site entitled "La Folie Monvel".
Dernière modification par Stéphane-Jacques Addade, le 06/04/2015